It gives us great pleasure to announce Berkeley Bioengineering's next Department Chair, Professor Sanjay Kumar! Kumar joined our faculty in 2005, and will be taking the reins from Professor Dan Fletcher, who will return to his normal teaching and research duties with our sincere thanks. 
Please see messages from both Chairs below.
---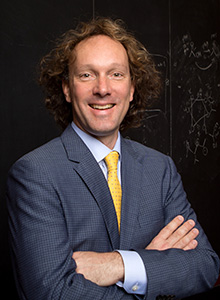 Dear BioE Community,
It has been my great honor to serve as Department Chair for the last four years. Thank you for the chance to support the exciting research of our faculty, the many talents of our students, and the remarkable success of our alumni.
  
This is a very exciting time for Bioengineering at Berkeley. Together, we've successfully completed an external academic program review, hired three (soon to be four) new faculty, reached gender parity in our undergraduate class, celebrated BioE's 20th birthday as a department, and climbed up the national rankings, among other successes. The opportunities for our graduates are expanding, and the importance of Bioengineering as a leader in solving major societal problems is growing.
  
Berkeley, with its unmatched breadth and depth, is an amazing place for Bioengineering to continue to grow, and I'm excited about the plans of our incoming Department Chair, Sanjay Kumar. I look forward to returning full time to research and teaching, including serving as Co-Director of the Physiology Course at the Marine Biology Laboratory this summer and taking up a Miller Professorship with the Miller Institute for Basic Research next year. 
My sincere thank you to the BioE community for all you do, all you have taught me, all you give back to campus, and the examples of success you set for our students.  Keep it up.
Sincerely,
Dan
---
Dear Friends and Colleagues,
It is an honor to succeed Dan as the Chair of our Department. Berkeley Bioengineering has been my home for my entire 14-year faculty career, and I've benefited immensely from the culture of collegiality, innovation, and scholarship my predecessors have helped create.
As Chair, I'm excited to build on these great traditions while expanding our department's impact through new academic, industrial, and philanthropic partnerships. As always, we remain committed to ensuring that our students have a rewarding educational experience and that all members of our community feel included and valued.
I look forward to working with you all.
Go Bears!
Sanjay