How do discoveries and inventions get translated from research labs to positive impact on human health in the clinic?
Through Bioengineers. We move ideas from scholarship to solution. We are driven to improve health, across the globe. To meet this challenge, we use Bioengineering Design – a process that methodically guides us in identifying important and unmet biomedical needs, and then rigorously guides us as we iteratively develop our creative engineering into effective solutions. Design in bioengineering at UC Berkeley is comprised of three core educational experiences.
First, our Senior Capstone Design course (Bioengineering 192) provides a foundation in engineering design that is reinforced by substantial hands-on, experiential learning. This one-semester intensive introduces fundamental design concepts, then applies design theory to practice through senior projects that traverse the entire engineering design process, including prototyping and testing. Senior projects tackle the real-world unmet needs of our clinical partners, and are a partnership between capstone senior teams and practicing clinicians.
Second, alumni of the Senior Capstone Design course often continue development of their solution concepts, iterate through another solution-concept cycle, or simply tackle a new unmet clinical need – either solo or in teams. Seniors mature their engineering design experience and their design portfolios through Independent Study (Bioengineering 199, H194, 196).
Third, for Berkeley Bioengineers seeking advanced engineering design experience in the clinic, we offer the Biodesign Immersion Experience (BIE). During the 8-week, paid BIE internship, rising seniors (protégés) and recent senior capstone alumni (fellows) deepen their experience in in-clinic needs finding, needs formulation, and project management. BIE is funded by NIH (2012-2022; PI: Herr, Grant R25EB013068).
Through a combination of theory and practice, design in bioengineering equips UC Berkeley alumni to lead biomedical innovation and realize effective, efficient, and accessible bioengineering solutions for the 21st century.
How do our three educational experiences
relate to the three major steps of the engineering design process?
Needs Finding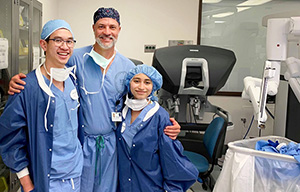 To make meaningful impact, bioengineers must first identify meaningful problems. Practice makes perfect. Henry Ford – inventor of the automobile – is attributed with succinctly stating the inventor's challenge as: "If I had asked people what they wanted, they would have said faster horses".  Practicing out in the 'real world' of clinical medicine is the key to becoming an engineer experienced in needs finding and formulation.
Needs finding is arduous, with false starts and iterative loops. Making order out of chaos can be exceptionally difficult for new engineers. So, bioengineering design provides the framework for identifying meaningful problems out in the field. Once rigorously identified and well formulated, these meaningful problems become 'unmet medical needs' – ready to be addressed by engineering. Bioengineering design offers a structured, rigorous set of methods for discovering, articulating, prioritizing, and finally selecting solvable unmet needs.
During Berkeley's Biodesign Immersion Experience (BIE) internship program, a competitively selected cohort of Berkeley Bioengineers embed with SF Bay Area clinicians. Over an intensive 8-week summer internship, the BIE fellows and protégés gain experience in observational needs finding and stakeholder analyses through collaboration with healthcare professionals at UCSF, Stanford Medical Center, and the greater Bay Area community. During Capstone Senior Design, Berkeley bioengineers take on medical problems identified by partnering clinicians, devoting their senior year to, first, understanding and then solving real-world, clinician-identified biomedical problems. Through these interactions students also develop skills in communication and professionalism that enhance their success and impact after leaving school.
Innovation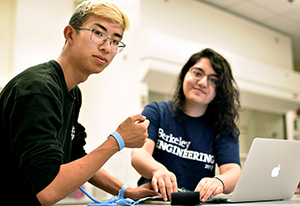 After our clinical partners identify biomedical challenges, we synthesize Berkeley Bioengineers' cumulative training with the engineering design process to understand and solve those problems. This is the Senior Capstone experience. Here, we learn that innovation can be accelerated and honed through rigor. Luck is not critical. Rigorous practice is. Using the theory and structured methods that underpin all stages of the bioengineering design process, we set our seniors off to invent and translate effective engineering solutions. The one-semester Senior Capstone experience spans the entire design process. Seniors start with the critical process of needs-finding and follow the design process all the way through prototyping and testing.
Using both form and functional prototypes, each team validates their engineering solution concept against quantitative performance metrics, to assess how well the solution fills the need.  Prototyping and testing are conducted using state-of-the-art prototyping resources, through our partnerships with the UC Berkeley Jacobs Institute of Design Innovation, the Mechanical Engineering's Student Machine Shop, and QB3's Biomolecular Nanofabrication Center (BNC).
In addition to quantitative skills, seniors gain extensive experience in technical communication. Each Capstone project team completes three intensive engineering design reviews, as well as showcases application of the engineering design process to their clinical partners at a final symposium  that includes a culminating technical talk and submission of a written technical document. Each set of findings are communicated to the partnering clinician and their teams at the final symposium.
Our goal is to introduce new bioengineers to design using open-ended biomedical problems, while fostering an environment in which interdisciplinary and team-based innovation are promoted & encouraged. Much like the environments they will find in the next stages of their careers or training. This educational framework is conducive to holistic user needs assessment and universal design principles and complements our students' theoretical knowledge with purpose-driven experiential knowledge.
In addition to knowledge of engineering design, a portfolio of design experience, and new connections with biomedical leaders, Berkeley Bioengineers gain insight into FDA Regulatory frameworks, basics of intellectual property (IP) generation and protection, project management approaches, biomedical ethics, and case studies in successful commercialization of biomedical innovations. Our undergraduates engage with established biomedical leaders from industry and government, building their networks as well as their knowledge.
Translation
In advanced engineering design, Berkeley Bioengineers seeking additional practice have the option to spend a semester applying their newly acquired engineering design knowledge to unmet needs presented by our clinical partners – either maturing their solution concepts or embarking on entirely new questions. Through Independent Study, experienced Bioengineers lead their design efforts, and gain extensive project management, goal setting, and professional communication experience while forming closer partnerships with our partnering medical experts. For certain projects, Seniors have used the Spring semester to embed in the clinic, accelerating maturation of early solution concepts to clinical impact.
The bioengineering design experience has seen senior capstone projects developed in exciting ways. Companies including Eko Devices and Aluna have spun out of UC Berkeley based on unmet needs identified in Capstone Senior Design, and the alumni's expert knowledge of the bioengineering design process. Eko Devices, for example, has seen two FDA approved products go to market, with their founding team named to Forbes' "30 under 30" and their first product (CORE Digital Stethoscope) named a Time Magazine Best Inventions of the Year. Aluna has received NSF grants in excess of $1 million and been featured in the Wall Street Journal. Even more important to Berkeley Bioengineering than successful spinout companies are the successful career trajectories and contributions of our alumni. Berkeley Bioengineers can be found in advanced training (medical, graduate, law), nonprofits, government, and leading companies, big and small.